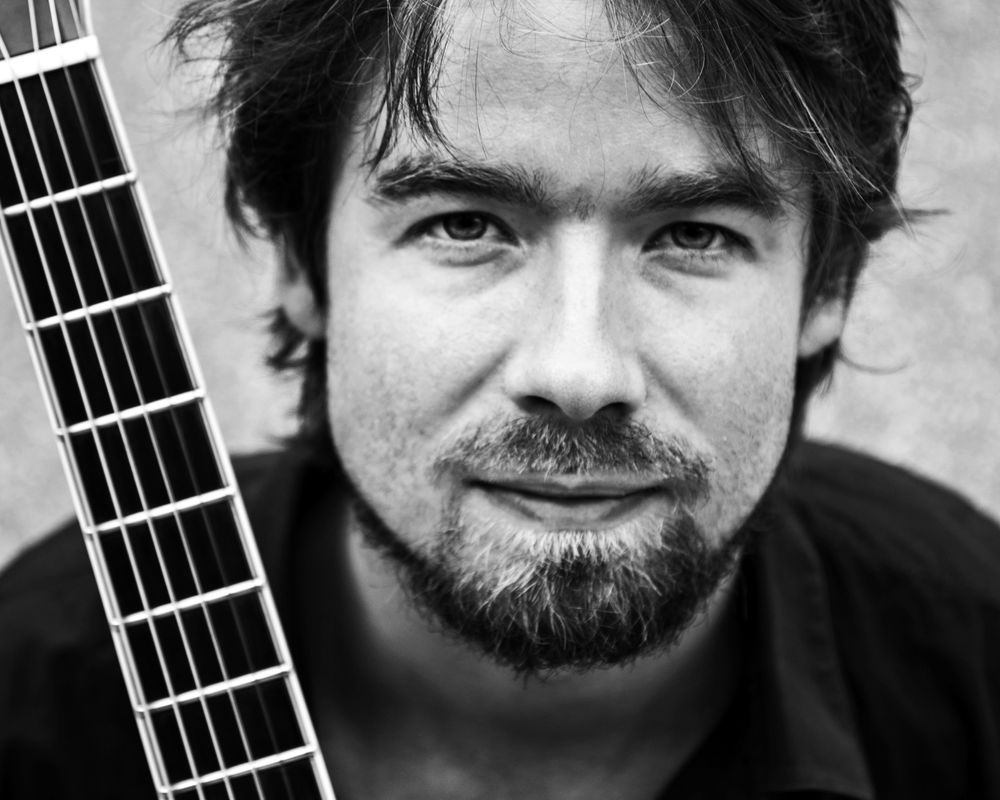 Biography
Bram Stadhouders (Netherlands, 1987), multi-awarded guitarist, improviser, composer, is known for his adventurous attitude in music. He collaborated with internationally respected improvisers like Sidsel Endresen, Jim Black, Terje Isungset, Joost Lijbaart, Grzech Piotrowski, Nils Petter Molvaer and classical ensembles like the Netherlands Chamber Choir, Aart Strootman, voices from Bulgaria, tenor singer Sebastian Brouwer, Remy van Kesteren and Belgian ensemble Baroque Orchestration X.
He also created innovative technical projects like triggering the worlds largest transportable barrel organ using midi-guitar, triggering church organs, playing ice-guitar, or composing for a "surround sound" guitar system. His playing is influenced by ambient, jazz, and contemporary composed music, seeking the borderline between improvisation and composition. He received a Masters degree in composing from the Royal Conservatory in The Hague. He released over 10 self-initiated albums, 5 of which are released on Challenge Records. His projects received critical acclaim and awards like the North Sea Jazz Composition Assignment. He's on a mission to continuously look for new challenges, unusual combinations and forward-looking concepts, while keeping a highly personal emotional expression as the main starting point.
Apart from Holland's neighboring countries, Bram has performed in Mali, Rwanda, Tanzania, Zanzibar, Mexico, Colombia, Panama, Bolivia, Peru, Tadzjikistan, Kyrgyzstan, Egypt, India, China, South-Korea, North America, Canada, Norway, Poland, Germany, Russia, Israel, Spain, Turkey, Macedonia, Greece, Serbia, Turkey, Slovakia, Slovenia, Hungary, Bulgaria.
He has collaborated with artists like: Onno Govaert, Eric Vloeimans, Jim Black, Sidsel Endresen, Terje Isungset, Arve Henriksen, Wolfert Brederode, Karl Seglem, Thomas Strønen, Grzech Piotrowski, Sainkho Namtchylak, Sinikka Langeland, Per Oddvar Johansen, Ruth Wilhelime Meyer, Mari Kvien Brunvoll, Koenraad Ecker, Gulli Gudmundsson, Skuli Sverisson, Theodossi Spassov, Marcin Wasilewski, Bulgarian choir Angelite, Harmen Fraanje, Jeroen van Vliet, Eric van der Westen, Sanne van Hek, Haytham Safia, Wouter Jaspers, Laïs, Noel Redding (bassist from Jim Hendrix), Nelson Veras, Hein van de Geyn, Matthieu Chazarenc, Staplerfahrer, Spinvis, the Netherlands Chamber Choir, and much more.
"

His composition with the barrel organ was not only fascinating, but also sounded wonderful. It attracted a lot of audience."
— Michelle Kuypers, North Sea Jazz Festival
"

The result is breathtakingly beautiful. Very unique how classical vocals and impro-jazz come together here. **** 4 stars, 23-09-2015. About Henosis."
— Gijsbert Kamer, Volkskrant
"

The guitarist claims a unique place in the music world for himself with this project"
— Jan Jasper Tamboer, Parool
Subsidies
Bram Stadhouders' projects have been funded by the following institutes:
(Albums (co)-initiated by Bram Stadhouders: 
"Tonelist" (2007) (self-released) 
"Mens" (2008) (self-released)
"Enderra" (2008) (self-released) 
"The Ship Comes" (2009) (self-released) 
"Halt" (2010) (self-released) 
"Bell Time" (2011) (IDGR records) 
"Henosis" (2013) (Buzz Records / Challenge) 
"Monasteria" (2015) (Challenge Records) 
"Cantata" (2015) (self-released)
"Under the Surface" (2017) (Challenge Records)
"Trinity" (2019) (Challenge Records)
"Orbit" (2021) Intro in Situ records
 
As a sideman Bram appears on the following albums: 
Jeroen van Vliet's OGU (2013) (self released) 
Rutger Zuydervelt - Stay Tuned (2014) 
Grzech Piotrowski Quartet - Archipelago (2011) - Challenge Jazz Records 
Grzech Piotrowski - World Orchestra (2011) 
Haytham Safia - No Complication (2010) 
Eric van der Westen - The Devine Cockeyed Glimpse (2012) 
Joris Voorn (producer/DJ) - Nobody Knows (2014)